At Workspace Architects our clients are always at the centre of our service delivery. Whether your project is small scale or complex, we will co-ordinate the whole solution because of our expertise in the following areas:
WORKPLACE STRATEGY & OFFICE DESIGN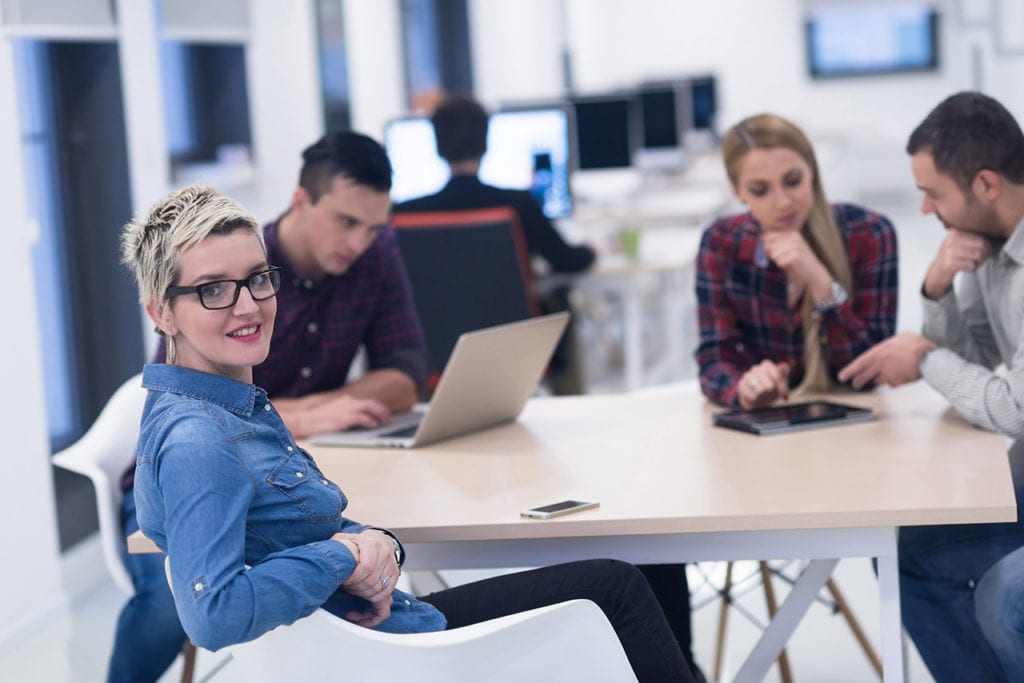 We love working with people to distill the personality of an organization and create spaces where people want to work. As experts in space planning and workplace strategy we will work with you to explore what makes your business tick and how you would like to work in the future.
Together we will plan how much space you need and help you choose a safe and healthy environment by reviewing the compliance of your preferred buildings. We will work through a range of testfit designs to ensure your team not only fit in the building, but also that they have the space to make choices in how and where they work. With staff seeking more flexibility to work remotely, we can also assist with re-stacking options to revise floor plans and optimize your existing space or sublease spare capacity.
Modern work spaces are about flexibility, diversity and inclusivity so they cater for the needs of all employees. From the earliest stages in the design process we use high rendered software so you can visualize how your new space will look and feel. Businesses are seeking to create workplace communities where people can collaborate and connect to new ideas and this means providing the right mix of collaboration zones, break out spaces and hubs, alongside calm areas and quiet zones. Historically offices were homogeneous places with standard lighting throughout, but we'll use lighting, textures, furniture and finishes to enhance different work settings to meet the needs of all your staff and reflect your business culture.
DESIGN FOR AOTEAROA NEW ZEALAND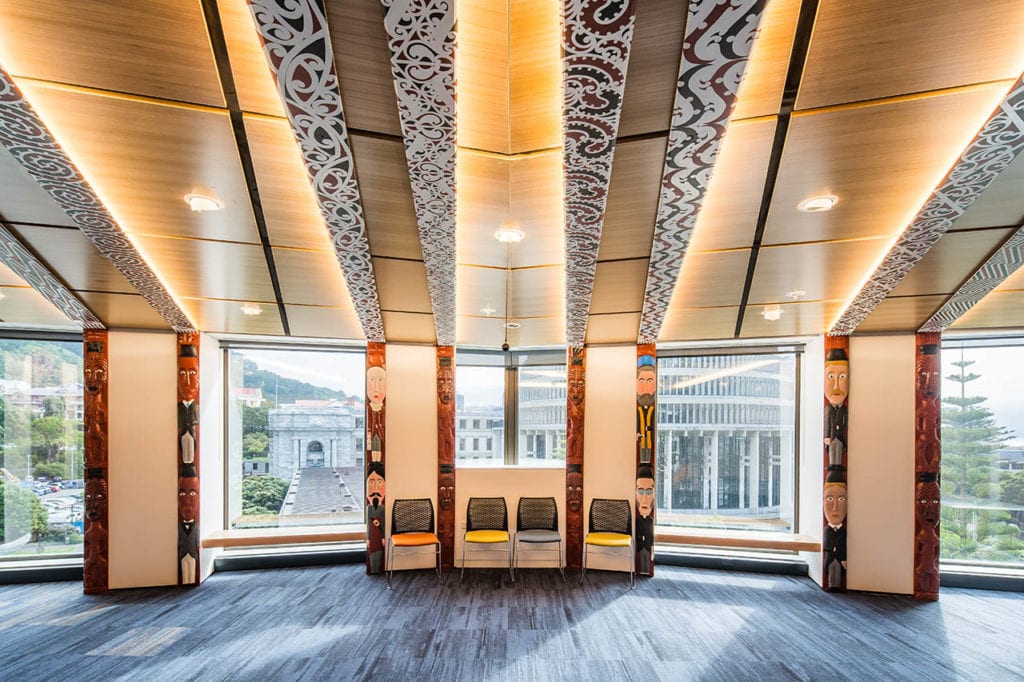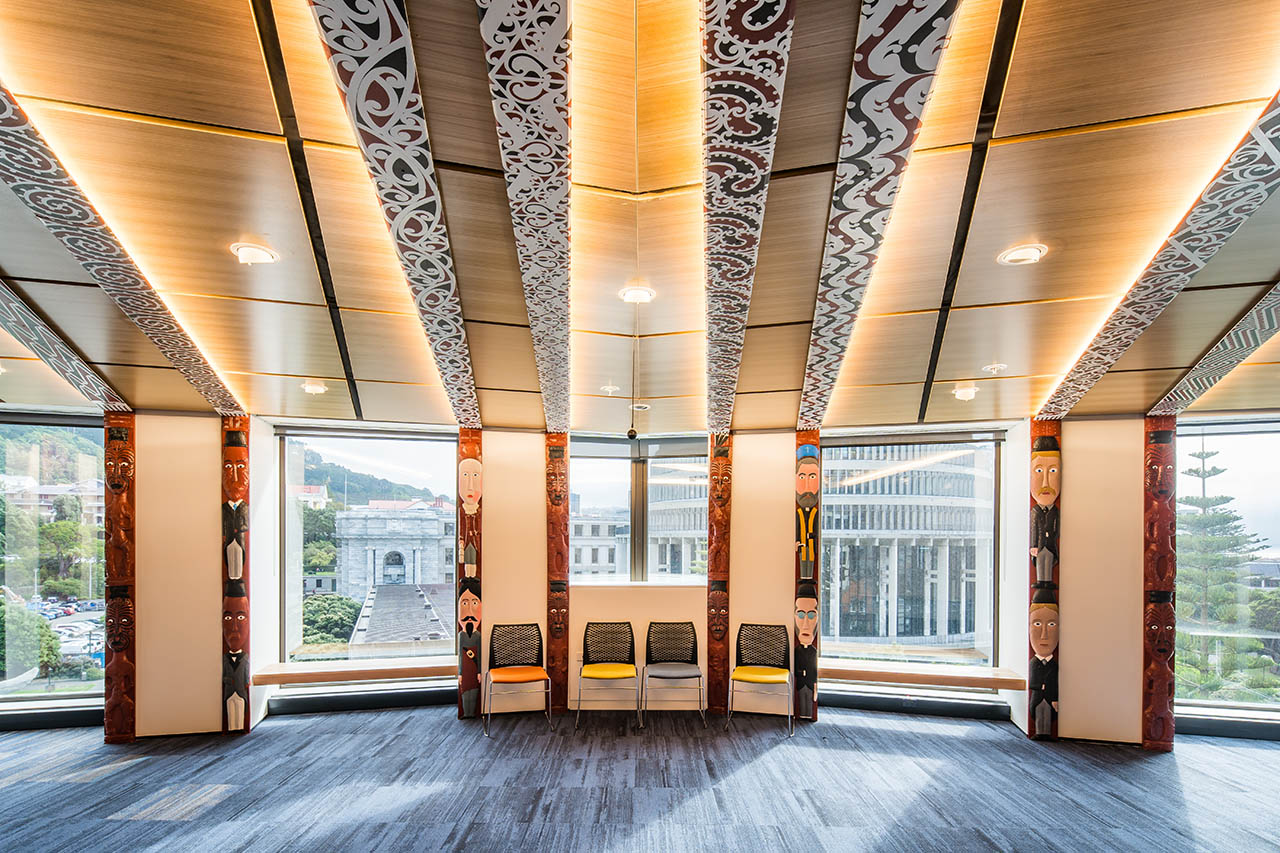 Our respect for a collaborative design process has given us opportunities to work together with cultural advisers to explore our bi-cultural partnership as reflected in Te Tiriti o Waitangi, and what this means for the design of modern workplace settings.
We are selected as project architects for our enthusiasm to co-design alongside Māori advisors, artists and designers, and our ability to engage with staff on this journey.
We have been architect for the following office fitout projects: Te Tai Ōhanga The Treasury, Manatū Taonga Ministry for Culture and Heritage, NZCER Rangahau Mātauranga o Aotearoa, New Zealand Infrastructure Commission Te Waihanga, NZEI Te Riu Roa, and the Teaching Council of Aotearoa New Zealand.
Whatever the organization, our approach is always the same – we build the process around our client and their unique vision for their organization.
SUSTAINABLE DESIGN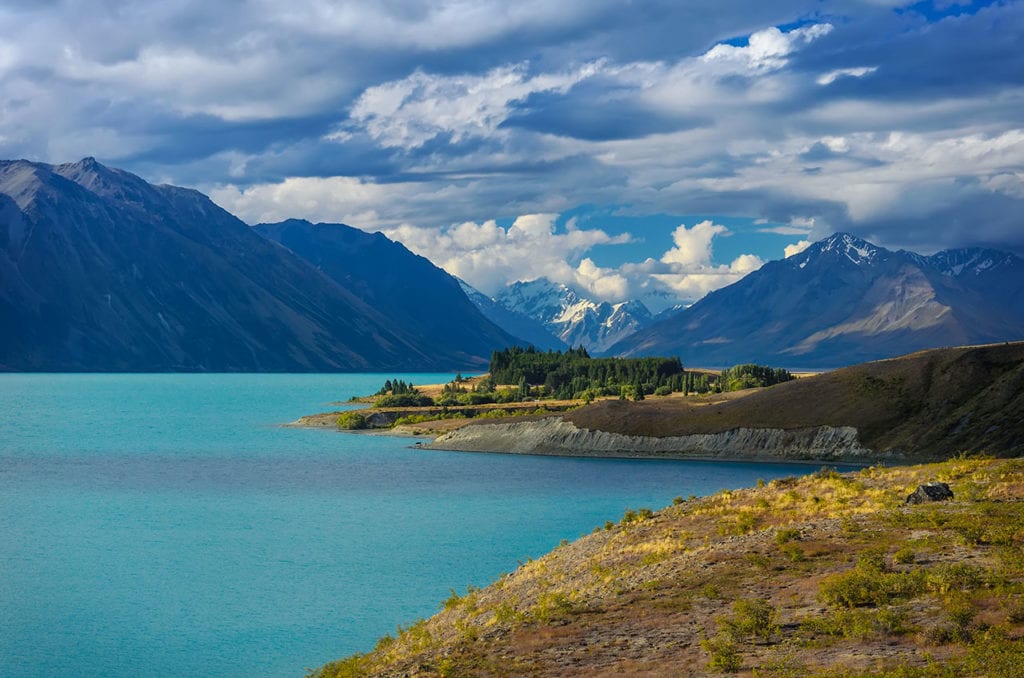 Increasingly building owners and tenants wish to make positive sustainable choices as they engage in the architectural process. We are experienced in developing energy efficient green focused solutions as architects for both building owner base build projects as well as tenant projects.
We do not work in the `green field' building sector so our sustainability story comes from repurposing multi-storey buildings for a new future. Building owners often choose us as the lead consultant to work with Green Star advisers to co-ordinate a refurbishment solution that is both environmentally sound and affordable. One of our recent projects is as lead consultant, with a team of advisers, on the building wide refurbishment of the TSB Bank Building to achieve a Green Star 5 rating.
For our tenancy clients we design our fitouts to maximize their life by being flexible and future proof, reducing fitout churn and improving life cycle cost. Recent developments in green building processes, products and finishes allow increasing opportunities for our clients to make sustainable choices.
BUILDING REDEVELOPMENT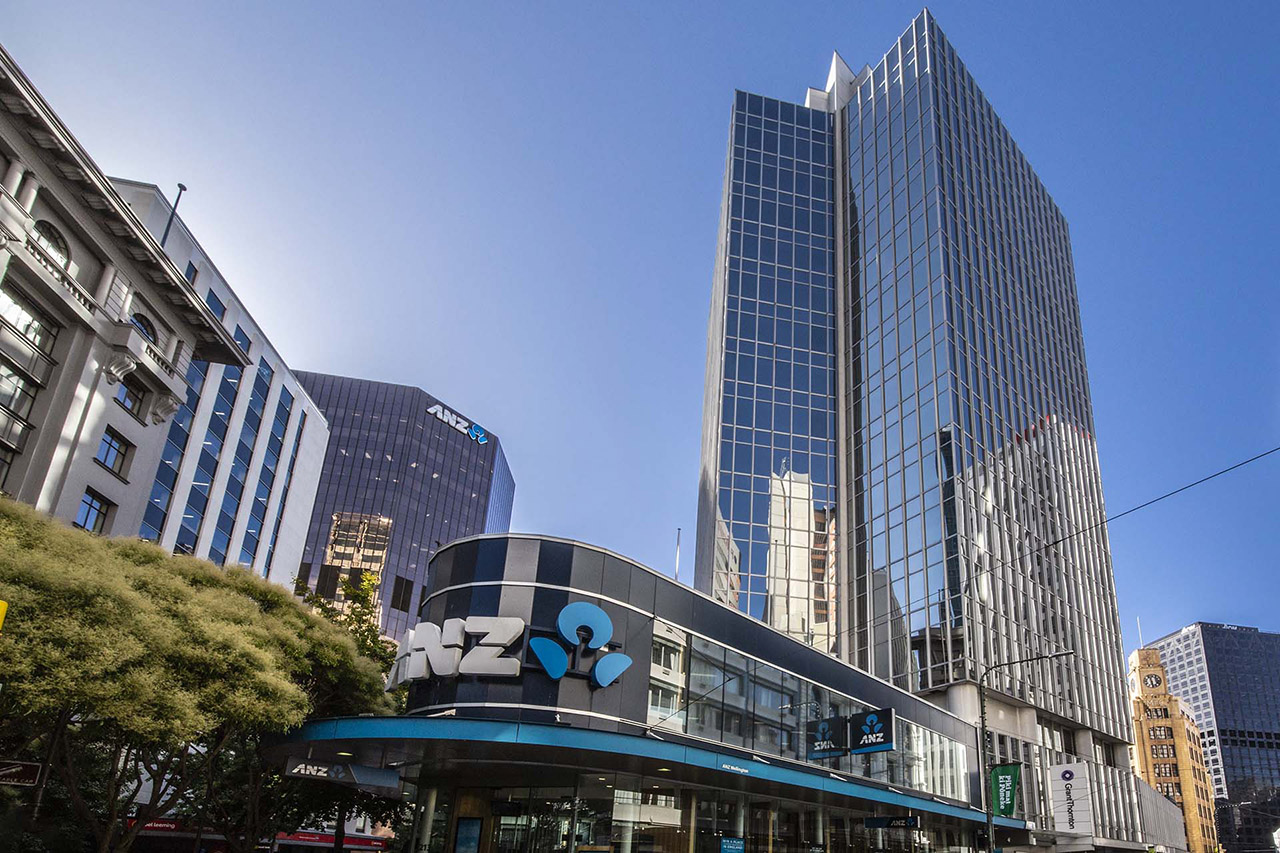 The challenge for building owners with older buildings is to refurbish them to maximize their full potential. We have years of experience invigorating building stock, whether it's the redevelopment of an entrance lobby, transforming unused parts of a building, or leading consultant teams to implement Green Star initiatives for long term sustainability.
"We understand how buildings are put together, not just the space between the floor and the ceiling, so we can design the right solution for your building, whether it's a modern office tower or a heritage property."
Our expertise in commercial design means we are often chosen as the lead consultant on a project, responsible for the review, co-ordination and value engineering of the project solution to ensure the best outcome for our clients.
Our redevelopment projects include:
New ground floor retail extensions at 44 The Terrace and the Majestic Centre
Whole building refurbishment and strengthening of 1 Victoria Street
New mezzanine floor at the top of 1 Willis Street to increase the leasable tenancy space by 800m²
Revitalised lobby at TSB Bank Building
Design of a new linking podium floor between the towers at Datacom House Level 4 with a new curtain wall façade. This opened up another 2,200m² of leasable space
Transforming Book House into 11 desirable inner-city apartments
BUILDING ASSESSMENT & COMPLIANCE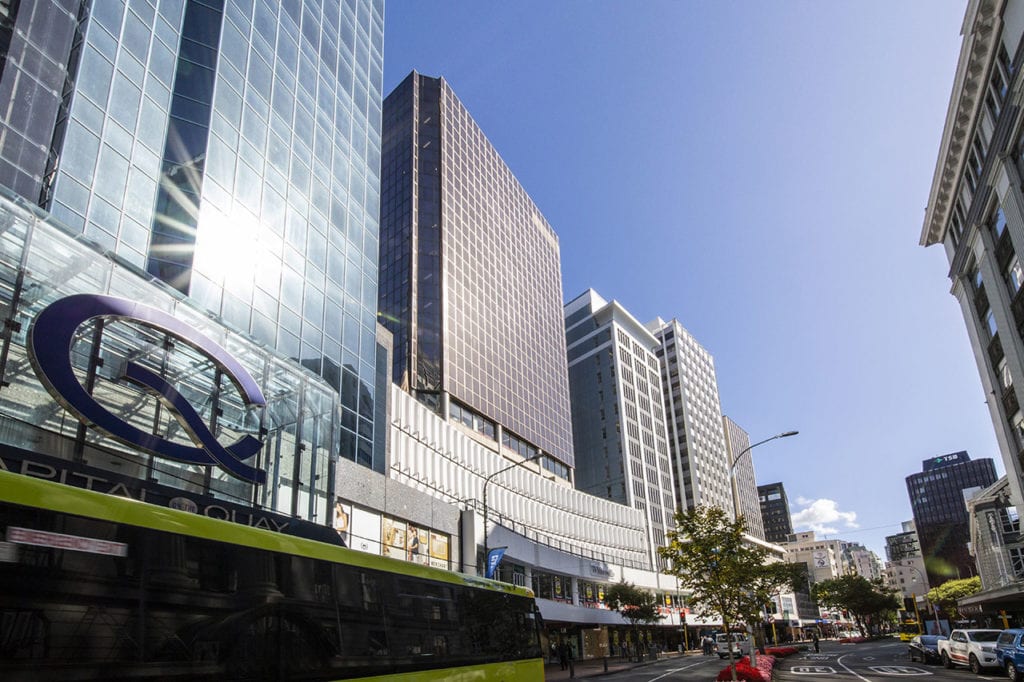 We are often appointed as the lead consultant to bring together a team to optimize the solution for the client and create the 'blueprint' for the project – a technical set of drawings which bring together all aspects of the project – and apply for resource and building consents. Building owners choose us because we spend the time tuning the design solution to fit the building and the market.
"We know how to strip a building back to its bare bones and design a whole building solution for our clients."
If your plans involve a 'change of use' for your building, the Council will review the existing compliance. We can help you transform poorly used areas into a vibrant new office, retail space or desirable apartments because we have a team of experts to advise on all aspects of converting older buildings to new uses.
We provide expertise in co-ordinating the following technical aspects:
Local Authority compliance regarding planning and resource consents
Building Consent applications
Compliance with the NZ Building Act
Compliance with the NZ Building Code including close working relationships with Fire Engineers to review egress constraints and fire systems compliance
NZS 4212 Access and Facilities for the Disabled
Coordination of separate consultants' services plans including emergency lighting, illuminated exit signage, Fresh Air requirements, plumbing and drainage
Contract knowledge of NZS 3910 and NZIA SCC1
Good understanding of the 'near as reasonably practicable' clause in the Building Act and how this can be interpreted to best suit projects
Passive fire requirements and knowledge of achieving compliance through retro fitting
NZS 4219 Seismic Restraint for non-structural elements
EARTHQUAKE STRENGTHENING SOLUTIONS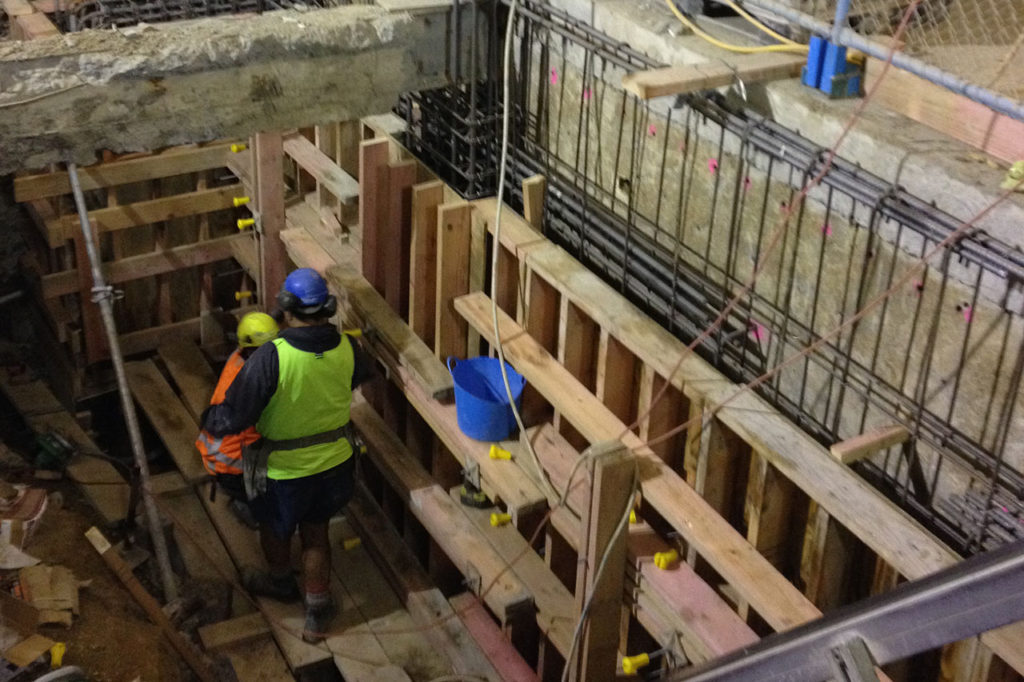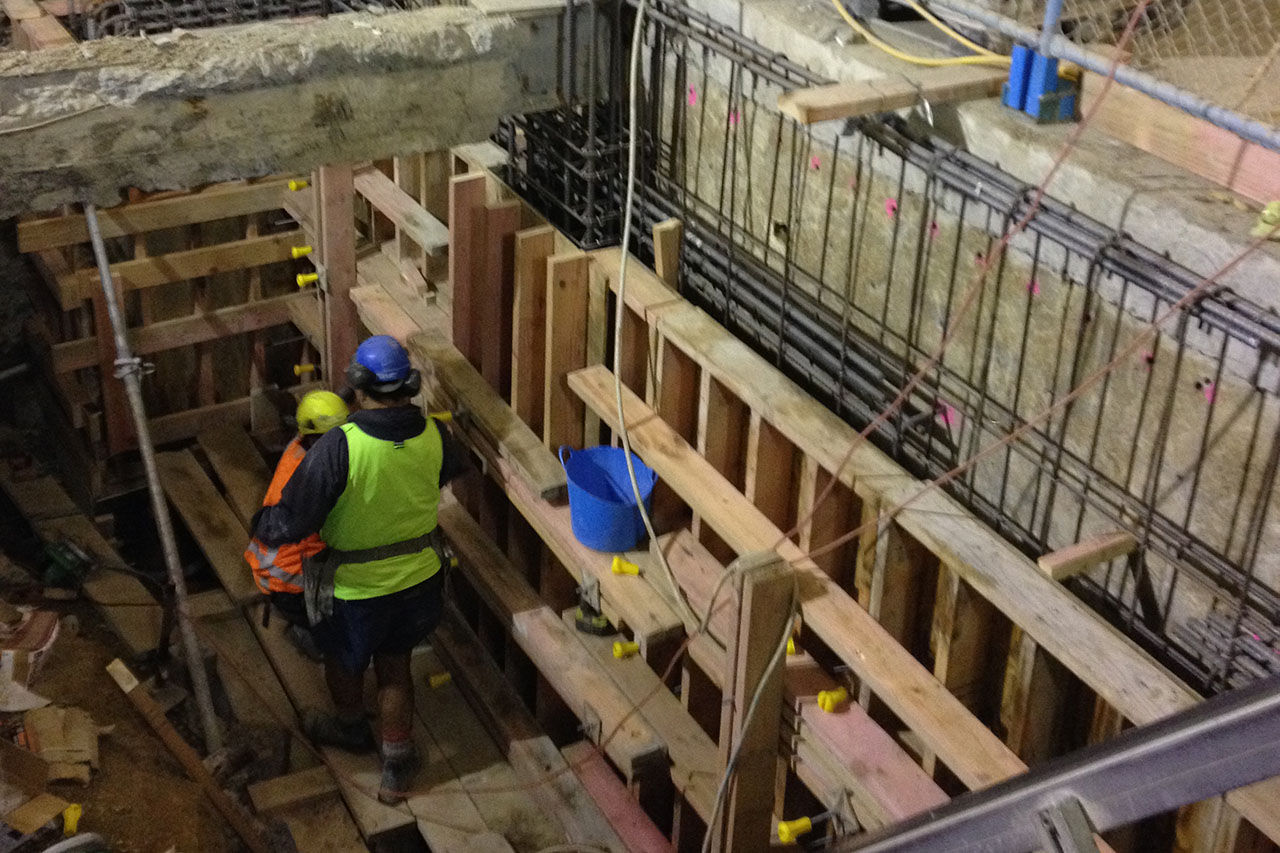 For many building owners the prospect of strengthening their buildings is daunting because the engineering solution is only part of the puzzle. We can help by bringing together a team to develop a 'whole building' solution and co-ordinate the structural elements, services engineering and architectural scope. We document this package of works to allow for an accurate cost estimate and develop the work processes for the seismic solution.
If the building is tenanted, we can work closely with you and your tenants and to minimise disruption and allow continued occupancy wherever possible.
When buildings are undergoing earthquake strengthening the Council focuses on the compliance of the building as a whole. We will guide you through the complex compliance issues and ensure that aspects of the building such as fire compliance, disabled access and egress routes are assessed to provide a complete solution. Our retrofit seismic strengthening solutions for heritage buildings won the 2015 Heritage Award and the 2017 Best Solution Award at NZSEE Earthquake Strengthening Awards.
PROCUREMENT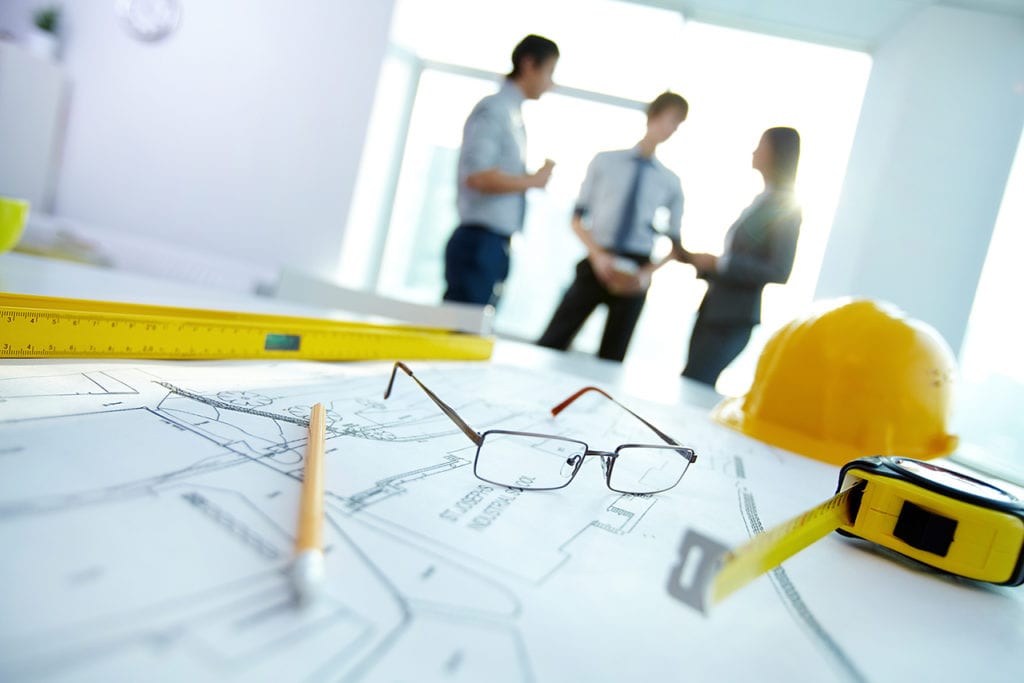 As an independent architecture practice we believe our clients benefit from an independent tender and construction process with transparent pricing and quality assurance. We act for the client to establish the best market price and we tender to proven contractors who have high quality sub contractors. We work with the contractors to identify areas of risk so that the price is realistic and robust. We're experienced in working with the GETS process to allow our government clients to benefit from this competitive environment.
Because of the quality of our documentation we can ensure that the integrity of the design is not compromised through cost cutting and substitution of materials on site without consulting the architect, which can happen with design and build contracts.
PROJECT DELIVERY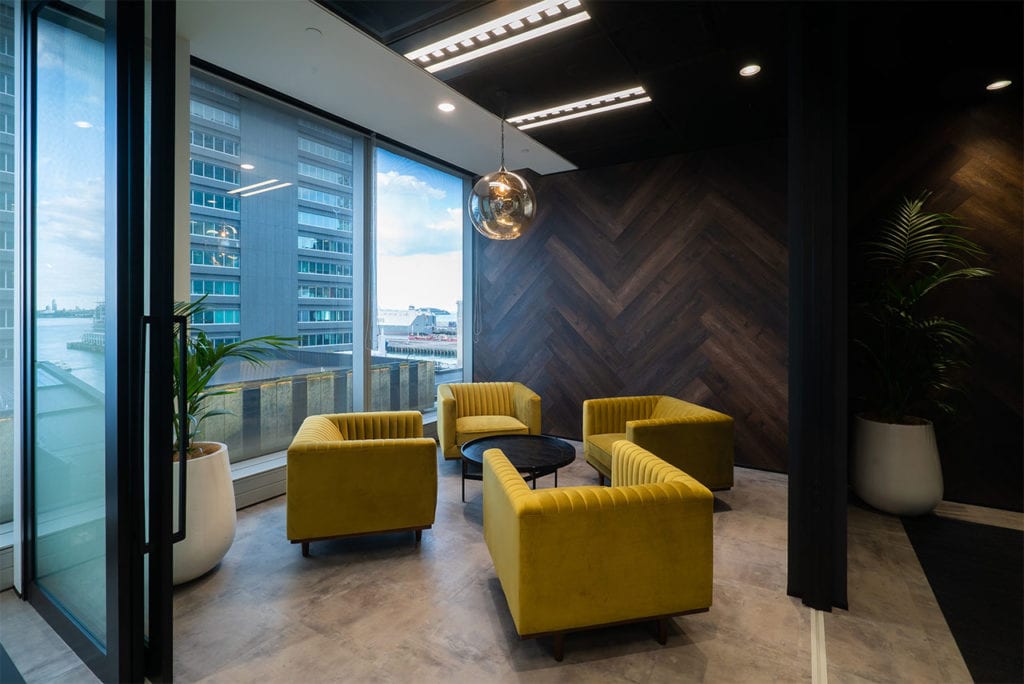 Project delivery is not only about an innovative design, but also about meeting client expectations regarding business drivers for the project, the budget and the programme. The way we ensure the success of your project is to appoint a dedicated Workspace Architects Project Lead, who stays with the project from start to finish.
The Project Lead ensures that as the design develops, the vision and budget are measured against your original goals and, where appropriate, savings are maximized through the integration of the tenancy works and the base build solution.
This delivery model ensures a strong continuum as the project moves from design through to construction documentation and the council and consent stages. Once the project moves on site it is the Project Lead, the person with the greatest knowledge of the project, who will guide you through the construction process and work closely with the contractor to ensure the build is just right.